Get your copy - Design with Color Product Brief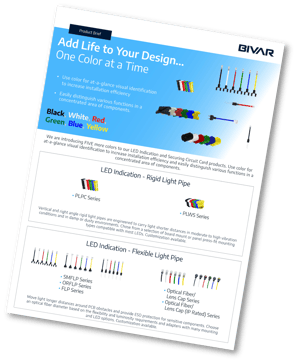 Learn about Bivar's new color additions to our LED Indication and Securing Circuit Cards products. You can now use color to improve visual identification and increase installation efficiency.
The new color will be available for the products below:
PLC1, PLPC2, PLPC3, PLW5
SMFLP, ORFLP, FLP, Optical Fiber/Lens Cap, and Optical Fiber/Lens Cap (IP Rated) Series
ELM1, ELM2, ELM3, and ELM5 Series
CP-06, CP-26, CP-36, CP-66, CP-86, CP-89
LP-06 and LP-06-01 Series
Download our product brief for full details on how our new colors improve your design experience.