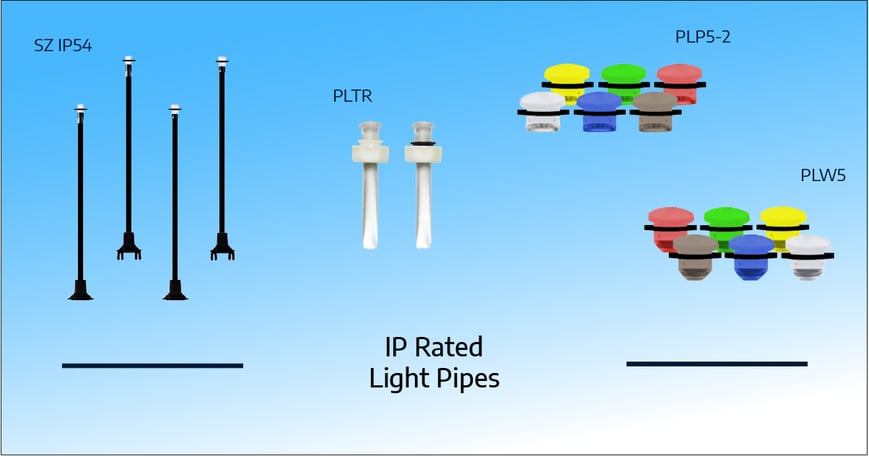 Bivar's IP Rated Light Pipe Products
Available in various sizes and colors, you can design with IP Rated Light Pipes to strengthen and protect in a ruggedized environment.
What is IP rating?
IP stands for Ingress Protection which is a system for classifying the degrees of protection provided for electrical equipment that has been developed by the European Committee for Electrotechnical Standardization (CENELEC). These standards are designed to numerically rate an electrical product on the level of protection its afforded.
Source: IP65 And IP54 – Protecting Your Electrical Equipment From Dust, Debris And Liquid
IP54
IP54 rating offers dust protection and protects against splashing of water from all angles.
SZ IP54:

Flexible light pipes provide the option to transfer light from the LED to Panel that are not aligned completely or have obstacles in the way. Optical fiber can be moved around as needed. SZ IP54 adapter covers LED completely to provide zero light bleed and prevent light bleeding into unintended areas.

PLP5-2:

Rigid Rear-Mounting Press fit light pipes. It is ideal to provide protection from ESD for sensitive components

. It is made from 94V-0 polycarbonate and available in a range of lens profiles and lengths. It is ideal to provide protection from ESD for sensitive components.

PLW5: Front Mounting Press Fit designed as a wide capture lower body to provide micro-lens to focus and move light for brighter emittance.
IP67
IP67 rating offers complete dust protection from airborne particles while also protecting against water for up to 30 minutes at 1 meter depth.
PLTR: Rigid Front Mounting Press Fit light pipe includes threaded retention so when properly tightened with a torque wrench will provide a secure fit for harsh environment protection.
Application & Insights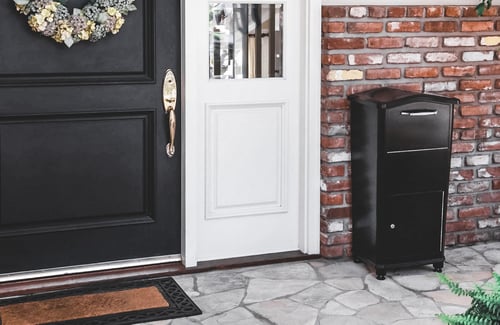 A customer was creating a ruggedized outdoor cabinet that to be placed in a residential or commercial entry area. The cabinet needed to be tamper-proof and be able to endure weather and industrial daily delivery interaction. Bivar's IP Rated Flexible Light Pipe system met the client's need in their ruggedized environment. The board mount adapter added strength to the system along with the flexibility of the optical fiber to shape and move the light to the point of indication.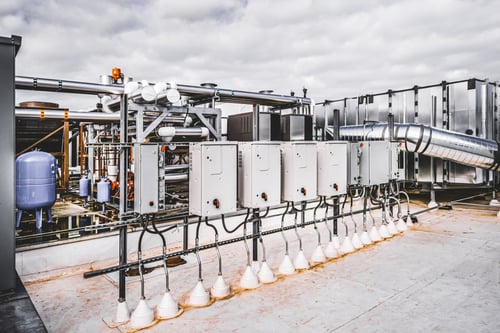 A client requested a light pipe to be installed in their outdoor low voltage network monitor. The client required a light pipe with IP rating to ensure protection against outdoor weather, and was budget-conscience. With those concerns in mind, Bivar's engineers were able to recommend a IP Rated Flexible Light Pipe that will be versatile in movement around PCB components, improve light transmission from LED to lens, allow zero light bleed, and most importantly with IP 67 rating to protect the components and cost effectiveness to appease the client's concerns.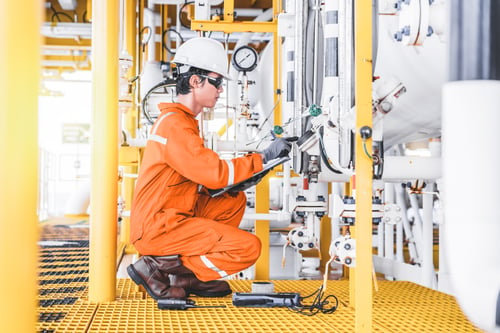 Our client had a very specific requirement for optimized visibility along with particular electrical characteristics and array assembly. This consisted of specific mounting requirements on the panels to allow for easy handling during installation and secure a tight seal. Bivar designed a very specific lens and LED housing with mechanical features to secure the LED and to allow for the lens to properly latch onto the holder, providing a secure installation and optimum visibility.